After a long hiatus from artwork, I'm back at work in the studio preparing new work. My wife and I welcomed our third child nearly three years ago. Many things kept me out of the studio other than the occasional painting or drawing here and there. Renewed focus on art has returned.
10/1/2009 - Solo show
I am having a solo show at Vista Studios in Columbia, SC.
01/28/2008 - Printmaking and Web Updates
I am planning on making more fequent updates to this site as pieces are made. I am also working in intaglio printmaking, which is a new medium for me.
05/07/2007 - Painting Process Documentation
I am documenting the making of a painting which was started during the Columbia Open Studio tour this weekend. To see photos taken documenting how I develope a painting, click here.
12/15/2006 - New Studio Under Construction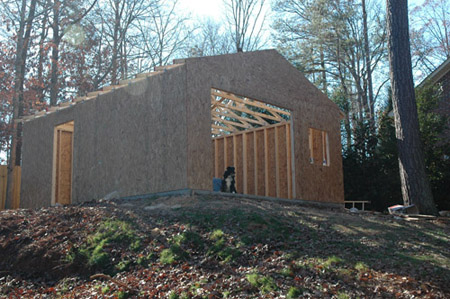 After many years of painting in my small in home studio, I've finally decided to do something about the lack of working space. Over the summer I began construction of a new studio in the backyard. Once finished, I will have twice the working space and will not have to concern myself with the odor of oil paints. The new studio is coming along nicely and I should be in the new space shortly after the New Year. Thanks to all of my friends and family who have spent weekends helping me make this happen!
12/13/2006 - Studio Tour
My new studio space will be on open to visitors along with nearly 60 other artist's studios during the first annual Columbia Open Studio Tour. For more information visit this website.